Everybody arranges their own, and there's plenty of opportunity for everything, but we ask outdoor people to come prepared with waterproofs and spare clothing. Mountain weather can change very quickly. If in doubt, talk to experienced people. But there are countryside and coastal walks, beaches, cycle tracks, museums, castles and harbours, rich in history. The Welsh Highland Railway is being revived, from Caernarfon to Beddgelert and possibly linking with the Ffestiniog Railway one day.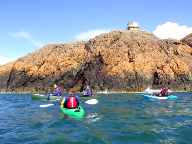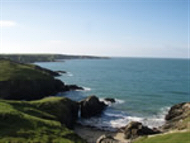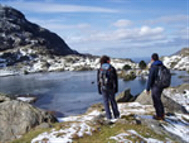 Some suggestions : for outdoor activities
Bird watching,
Excellent area with everything from chuffs to puffins peregrine falcons included! We have some major bird reserves with lots of hides within a few miles.
Click here
Boating and Fishing trips from Caernarfon. Click here
Windsurfing and Canoeing on the sea or lakes. There are many lovely beaches within easy reach locally and on Anglesey. Click here or here
Climbing some of the best climbing in the world can be found in and around snowdonia. Click here
Walking along innumerable footpaths in the mountains, along coastal paths and around lakes. Click here
Cycle Tracks (Bikes for Hire) from flat picturesque family fun to extreme mountain biking. Click here
Within a few miles there is:- A Golf Course Click here
Horse riding, catering from beginner to advanced with a choice of several local stables. Click here
Coasteering and canyoning Click here
There are lots of other options to many to mention here for further inspiration Click here
If you require help with and adventure or a walk or activity there are many local centres that cater for groups and individuals of all abilities and levels of fitness Click here
Some suggestions : for indoor activities
There are lots of activies for those rainy days. This list is only intended as a guide in addition to the local sights and attractions of Caernarfon with its Castle Click here and Shops.
The new dock development Click here is also worth a look with its new arts and entertainment centre the gallery Click here
Electric mountain Click here 13Km of tunnels under a mountain, hour long tour of Dinorwig Power station.
Indoors climbing wall Click here 
Leisure centre facilities which include Swimming Pool, Tennis, Squash, Badminton, Fitness Gym, and Sauna. Click here
Slate caverns Click here Descend into the Deep Mine!
Coppermine Click here interactive exhibition, Bronze Age, Roman and Medieval Artifacts and an Art Gallery.
The National Slate Museum Click here offers a day full of enjoyment and education. in a dramatically beautiful landscape on the shores of Llyn Padarn
Steam train rides Choice of three! lake side fun or 12 miles of stunning scenery or to the summit
Carting localy there is an indoor track Click here
Bowling Ten pin bowling Click here
and lots more, for further inspiration Click here